Having watched the space grow over the last 2 years as collectors, the founders of Fair.xyz came together and jotted down everything they thought they would like to see in NFT minting. No more gas wars, robust smart contracts, cheaper fees, accessibility to all – the list was endless.
They set out to create a new NFT launch experience, for both creators and collectors. Completely code-free and for all, end-to-end so that even the smallest creator can tap into state-of-the-art Web3 technology.
That's why today we are pleased to share with you the announcement that Fair.xyz raised $4.5 million in our recent Seed Round, to help bring this vision to life.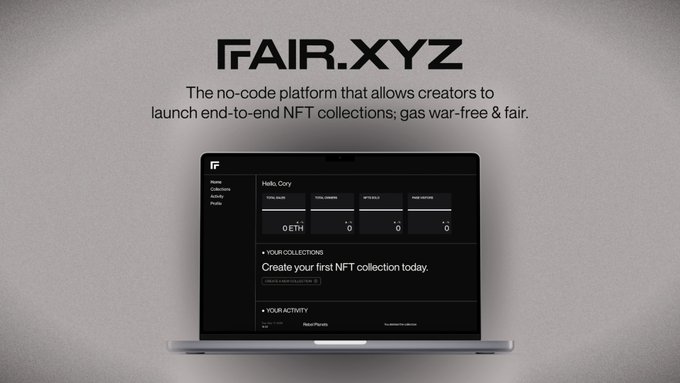 Our mission to democratise the Web3 industry was the core reason we started Fair.xyz back in Feb this year – and we're very thankful for the teams at @eblockventures @NFX @firstminutecap and @opensea who believed in us from an early stage to fulfil this vision.
We are also pleased to welcome as backers renowned opinion leaders @Zeneca_33 @0x_b1 and @mrpsyop, who aligned with the vision of how our platform will empower anyone to create NFTs and build communities, with no coding experience required.

Thank you as well to The Block as well, for announcing our seed round to the Web3 community. You can read their article here – https://www.theblock.co/post/162065/opensea-backs-nft-minting-platform-fair-xyz-in-4-5-million-round
After Fair.xyz raised $4.5 million in this seed round, we are now on the verge of opening our doors for all of you to experience what we've built, with 15,000+ of you already signed up to our early access. Join them by visiting https://Fair.xyz
For all your NFT creation needs, be sure to visit Fair.xyz – We're is empowering the next generation of creators, businesses and brands to create and launch NFTs, with no code or experience required.
Our goal is to create an industry-leading NFT launch experience for both collectors and creators that is secure, accessible and fair. Our proprietary technology removes gas wars, failed transactions and bots. From creators to businesses, we also work with the globe's largest institutions, brands and movements in order to bring ground-breaking and bespoke Web3 utility to life.